Disclosure:I receive referral fees from companies mentioned in this site. All opinion and data is based on my experience as a paying customer.
GoDaddy Review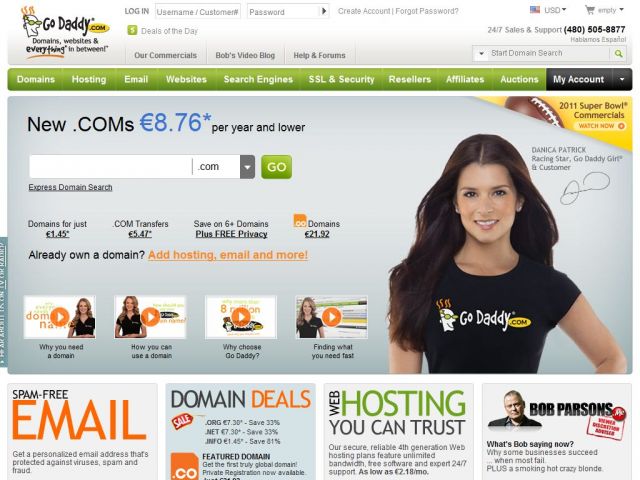 Click here to visit "http://www.godaddy.com"
GoDaddy is by far the biggest domain name registrar in terms of exposure, popularity, and market share. In fact, it is largely responsible bringing the domain culture to the mainstream forefront. While most of us know GoDaddy for its role in the domain name game, the company also specializes in a myriad of other services, including web hosting.
It may not be the cheapest option around, but this internet powerhouse has proven that it can hold its own in the web hosting arena. By reading this review, you will learn more about what GoDaddy has to offer as a web host.
Products and Services
The GoDaddy portfolio is chock full of products and services. If you need to create a website for your online presence, you are in good luck because GoDaddy has a wide variety of hosting solutions to choose from. GoDaddy offers traditional shared web hosting packages, virtual private servers, and dedicated servers. Also available are plans on Linux and Windows platforms, as well as cloud-based solutions built on Apple's Mac OS X operating system. From web to email hosting, there is something available to accommodate just about any need.
Basic Features
GoDaddy's web hosting service has improved significantly over the years, and this improvement is reflected in its impressive list of features. The actual features you receive all depend on the plan you select, but there are quite a few that are consistent across all packages, including multiple email accounts, FTP access, and comprehensive utilities for viewing your web stats. Another interesting feature these plans have in common is Google Webmaster Tools, a collection of tools that helps webmasters better optimize for search engine rankings. These features and many more have enabled GoDaddy to remain very competitive in the hosting marketplace.
Business Features
If you are someone with online business aspirations, the Deluxe and Ultimate packages may be of interest as both are rich in enterprise class features. These plans are equipped with features such as shopping cart programs, email encryption, and support for a private SSL certificate that secures your site and your site only. Each of GoDaddy's plans are designed with scalability in mind, so you can easily obtain whatever else you may need later down the road.
Control Panel
Most web hosting companies use third-party control panel programs such as cPanel, Plesk, and Helm. Being an innovator in the IT sector, it is no surprise that GoDaddy has decided to create its own proprietary software in-house. Like most control panels, GoDaddy's version aims to simplify the routine task of managing a web hosting account. It offers all the basic functionality, including the ability to set up email accounts, manage domains, and monitor resource usage. However, this software is far from perfect. The major complaints coming from customers is that the control panel's interface is a bit cluttered from a barrage of options,
and the GoDaddy branded advertisements that are integrated into the system
Customer Support
As far as customer support goes, GoDaddy gives you most of the traditional options, with phone and email being the best ways to get help from the staff. While the company offers support around the clock, its phone support is not toll free, and email responses may take up to seven hours, the latter likely being due to the fact that it has so many customers to service. GoDaddy also has a Help Center, which is compromised of a wealth of tutorials, FAQs and articles on relevant  topics. All in all, the Help Center makes an excellent self-help resource to turn to when you need to find your way.
Technology
The technology GoDaddy has access to blows even some of the most successful web hosting firms out of the water. As we mentioned earlier, the company has solutions on Linux, Windows, and Mac platforms, which means it is able to support MySQL, Postgre SQL, MS SQL, and Access databases, PHP, ASP, and Cold Fusion programming languages, FrontPage extensions, the .NET Framework, and much more. The GoDaddy hosting platform is oozing with technology, and this is one of the reasons it is such a big hit with seasoned developers and webmasters.
Service Reliability
One area in which GoDaddy truly shines is reliability. Whereas many web hosting firms lease and share building space with other businesses, GoDaddy actually owns it own data centers and all the features that make up their environments. This goes for the servers, the routers, and everything in between. By settling for nothing but the best equipment, and a world class network, the company is able to ensure the best performance possible for your website. Additionally, proactive monitoring, comprehensive backup power systems, and high tech security make excessive downtime virtually nonexistent.
Extras
Like most web hosting firms these days, GoDaddy offers a few extra perks to sweeten the deal. Each hosting package comes equipped with $160 in free credits towards Google and MySpace advertising campaigns, as well as 10 credits that can be used to purchase high quality images, video, and artwork on the royalty-free stock site Fotolia. GoDaddy also offers tons of free software programs with options ranging from the WordPress blogging platform to the Joomla CMS. Each application can be installed in a simple click.
Conclusion
GoDaddy offers a broad range of web hosting solutions and related services, giving it a major edge over the competition in the variety department. And while packages can get a little pricey depending on the features you require, its prices are competitive and offer a great value. The biggest drawbacks to hosting with GoDaddy would have to be the design of its control panel, which could make managing your account a bit more challenging, and the fact that you actually have to pay for your phone calls made to the support department.
On the bright side, GoDaddy has a track record that is well documented and a reputation for being very reliable. Coupled with reasonable prices, these factors make it a solid choice for a wide variety of needs.