Disclosure:I receive referral fees from companies mentioned in this site. All opinion and data is based on my experience as a paying customer.
GreenGeeks Review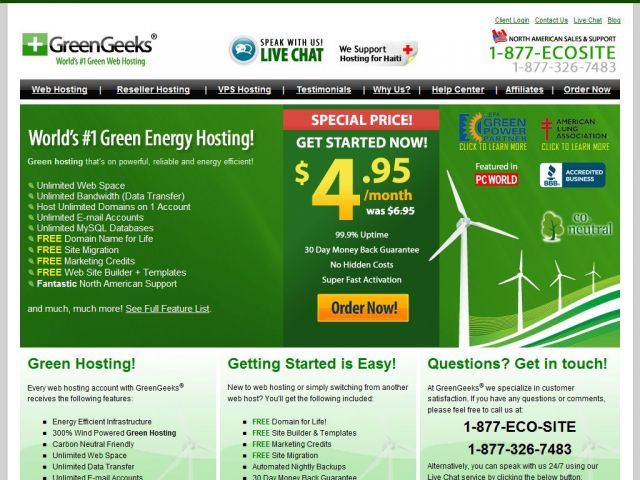 Click here to visit "http://www.greengeeks.com"
GreenGeeks is one of the pioneers in the green web hosting revolution. According to the company, its service is driven by 300% wind power, which is enabled by an investment in enough wind energy credits to put three times as much electricity back into the local utility grid. It is all a part of the firm's commitment to reduce the toll it is currently taking on the environment.
Not only does GreenGeeks specialize in more environmentally responsible solutions, but solutions that can be afforded on a budget. In this review, you will learn more about what this well respected hosting firm has to offer.
Products and Services
GreenGeeks has much greater variety than the average green web hosting company. Aside from traditional solutions fit for moderate individual and small business needs, it also offers powerful VPS hosting packages. The VPS plans are available in five different levels to accommodate different budgets and requirements. Also available are reseller accounts for those who would like to sell web hosting packages of their own. It is variety such as this that makes it easy for GreenGeeks to stand out from the fast growing crowd of green web hosting providers.
Basic Features
When evaluating GreenGeeks, you will see that it offers all the features that have become standard on the market. These features include an easy to use site builder complete with hundreds of templates, full FTP access, and the luxury to host an unlimited number of domains on a single account. You also receive a web-based file manager, the ability to create custom cron jobs, and a free domain name for as long as you are a GreenGeeks customer. This is in addition to enough disk space and bandwidth to accommodate your growth.
Business Features
GreenGeeks offers a host of features that are perfectly suited for business users. Its premiere hosting package includes an email system complete with your choice of webmail programs, autoresponders, and an efficient spam filter for keeping those pesky unsolicited messages out of your inbox. Also included are various shopping cart programs such as Agora, ZenCart, and osCommerce that can be used to create a storefront for selling products or services online.
As you can see, GreenGeeks' feature rich solution is ideal for both individuals and small businesses.
Control Panel
The control panel is one of the most important features in any web hosting package offers what is arguably the best of the bunch, cPanel. Currently the most widely used control panel on the market, cPanel is well known for its power and ease of use. This user-friendly software lets you manage all the critical aspects of your website, giving you the ability to set up email accounts, park domains, and activate encryption keys to secure your email communications. You also have easy access to the free site builder as well as a suite of utilities that allow you to view statistics on your website traffic. From creating sub domains to monitoring bandwidth usage, it can all be done from cPanel's simple, cleanly designed interface.
Customer Support
GreenGeeks consistently receives high marks in the customer support department. The company delivers both customer service and technical support 24/7/365, weekends and holidays included. Its staff can be reached through a variety of channels, toll free phone, email, and more recently, live chat included. There is also a rich source of online documentation that can be used to find answers to commonly asked questions and issues. Based in North America, many customers attest that the GreenGeeks support staff is knowledgeable and effective at helping solve their problems.
Technology
Although GreenGeeks' service is largely run on alternative energy, it does make use of traditional internet and networking technology. Its service is built on the Linux platform, hailed as one of the most durable and dependable operating systems available. Additionally, the company utilizes an optimized Apache web server as well as the high performing MySQL database system for backend support. The platform also keeps developers in mind with support for dynamic programming scripting technologies such as PHP, Perl, Python, and Ruby on Rails. These are just some of the reasons GreenGeeks is an increasingly popular option among tech savvy users.
Service Reliability
When it comes to green web hosting, the one factor that potential customers often question is the reliability of the service. This is for good reason, but GreenGeeks is proof that this type of hosting can be extremely reliable. Unlike many other firms, this company does not overload its servers for the sake of a profit. Instead, it limits the number of websites that are allowed to be on a single server, and proactively monitors each piece of hardware to ensure that they are putting out an acceptable level of performance.
GreenGeeks certainly takes a sound approach to server utilization, but the real key to its reliability lies in the data center. The company's facility is equipped with raised floors, in addition to dual power feeds coming in from the local utility. Onsite are UPS units and diesel generators that both work to ensure that the power continues to flow in the rare event of an outage. There is also a cooling system, fire suppression mechanisms, and an advanced security system in place to make sure the facility is physically protected. These features and more enable GreenGeeks to firmly stand behind its 99.9% uptime guarantee.
Extras
There is a growing trend in the web hosting business that sees firms offering bonuses to make their packages more attractive. It appears as if GreenGeeks is onboard as it offers a few extras to sweeten the deal. The host gives you tons of free software, with options ranging from blog engines to content management systems. You also get a free search engine submission to boost your search engine optimization efforts as well as free credits towards an online advertising campaign. These bonuses can be helpful at boosting traffic and enhancing your web presence in the process.
Conclusion
GreenGeeks is not only a major player in the green web hosting segment, but hosting in general. The service comes attached with a low price, plenty of features, and great support. If you have your mind on a more eco-friendly web hosting solution, GreenGeeks is one of the best decisions you can make.