Disclosure:I receive referral fees from companies mentioned in this site. All opinion and data is based on my experience as a paying customer.
DreamHost Review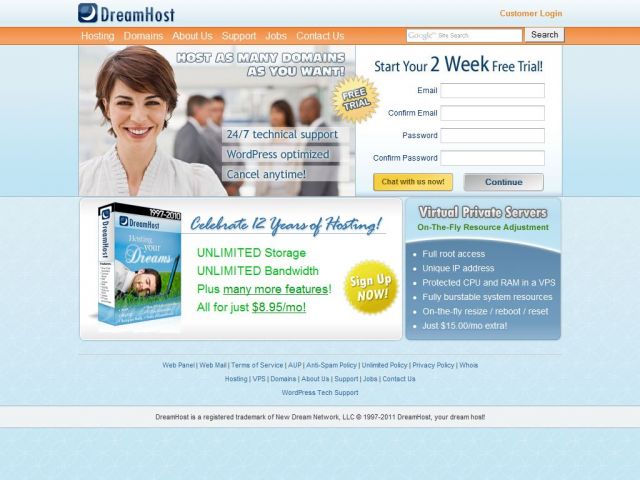 Click here to visit "http://www.dreamhost.com"
Employee owned and operated, DreamHost is one of the most popular web hosting companies around. For over a decade, it has been a leading provider of professional services designed for those who aspire to establish a presence online. Catering to needs that range from simple to complex, this firm has a little something for everyone.
Though a veteran in the game, the Los Angeles-based company is still growing rapidly, currently boasting hundreds of thousands of domains hosted. DreamHost is a popular choice among individuals and businesses, but is it right for you? Find out by reading this detailed web hosting review.
Products and Services
The DreamHost portfolio is amassed by a broad range of product and services. You can currently count on these guys to provide traditional low cost shared hosting, virtual private servers, and dedicated servers for those with more demanding needs. The company also offers colocation services, which are ideal if you have your own servers and need a secure location to store them. Need a domain name to go with your website? You can get that as well with the firm's affordable domain name registration service. As you can see, DreamHost certainly isn't lacking the variety department.
Basic Features
DreamHost is loaded up in the feature department, and gives you all the basics needed to launch your web presence. These features consist of a web-based file manager for keeping up with your images and documents on the server, unlimited disk space and bandwidth, and the freedom to run as many domains as you want on a single account. You also have the ability to create an unlimited number of sub domains, FTP access, and a full CGI library. DreamHost's impressive lineup of features make it possible to bring out the best in your website.
Business Features
Need more features to accelerate your online business? DreamHost has you covered here as well. For your communication needs, you are provided with a comprehensive email management system, complete with a range of webmail options, autoresponders, and effective filtering to help keep spam out of your inbox. If you need a way for your employees to communicate, that need can be accommodated with the ability to create unlimited email accounts. Video has become a big aspect in the business world, and DreamHost enables you to take advantage of this medium with multimedia applications such as RealPlayer and Quicktime. These features and more enable you to take your business to the next level.
Control Panel
DreamHost provides its customers with what is arguably the best control panel on the market, cPanel. This handy piece of software lives up to all the praise, providing an easy and convenient way to manage all the vital aspects of your web hosting account. From a simple, yet effective user-friendly interface, you can perform functions such as set up email accounts, access the file manager, and administer all the domains you have on your account. No need to log into a different interface. All your websites can be managed from a single, centralized location. Bundled with the Fantastico one-click script installer, cPanel allows you to install a broad range of add-on programs with ease. Whether it is a blog, CMS, or shopping cart, you can easily incorporate it in a matter of minutes.
Customer Support
If it is one area DreamHost could use improvement in, it would have to be the support department. Unlike most companies that offer free support, this one has premium support services at the rate of $9.95 per month, which only gets you three call backs each month. This could be a tremendous disadvantage if you are on a budget and need to get someone on the phone at a moment's notice. The good thing is that company offers free support 24/7 via email, in addition to an extensive online library of resources. Despite our opinion, DreamHost's support system has been structured this way for years, and that probably will not change any time soon.
Technology
The technical aspects of DreamHost's platform are quite impressive. Leveraging the flexible and highly durable Debian Linux operating system as the foundation, it utilizes the technology that drives a web hosting operation. For programming, the host supports PHP, Perl, Python, and Ruby on Rails, a robust framework that is quickly becoming the preferred choice of seasoned developers. The company also offers Shell Access, which is useful if you need to securely make advanced configurations that FTP does not allow.
Service Reliability
DreamHost has been very successful in the web hosting business, evidenced by the fact that it is profitable enough to maintain its own data centers. This is unlike other hosts that lease their buildings and share space with other businesses. DreamHost also maintains its own servers,  which consists of thousands of pieces of hardware. The firm only uses the best equipment to ensure that you enjoy optimal performance whether you are running on a shared, VPS, or dedicated server.
A world-class network also attributes to DreamHost's reliability. The company's facilities are equipped with 100 MB internet connections from multiple bandwidth carriers, ensuring that if one backbone experiences disruptions, the network continues to thrive. Its network is proof of the power of redundancy. DreamHost guarantees a 100% uptime, which we find pretty hard to believe, but despite a few incidents in the past, it does have a good track record for keeping customers online.
Extras
DreamHost throws in a couple of extras to add to the appeal of its services. These bonuses include a free domain name registration, and up to $75 in free advertising credits with Google AdWords. The most popular search advertising program, AdWords offers targeting capabilities that enables you to generate qualified traffic to your site, allowing you to spend based on your budget. This bonus alone makes hosting with DreamHost a very attractive option.
Conclusion
While DreamHost is far from perfect, it is a good company that has been around for a long time. There are many service providers to choose from, but if you can deal with the slightly higher price and premium support, this one might be the answer to your needs.