Disclosure:I receive referral fees from companies mentioned in this site. All opinion and data is based on my experience as a paying customer.
BlueHost Review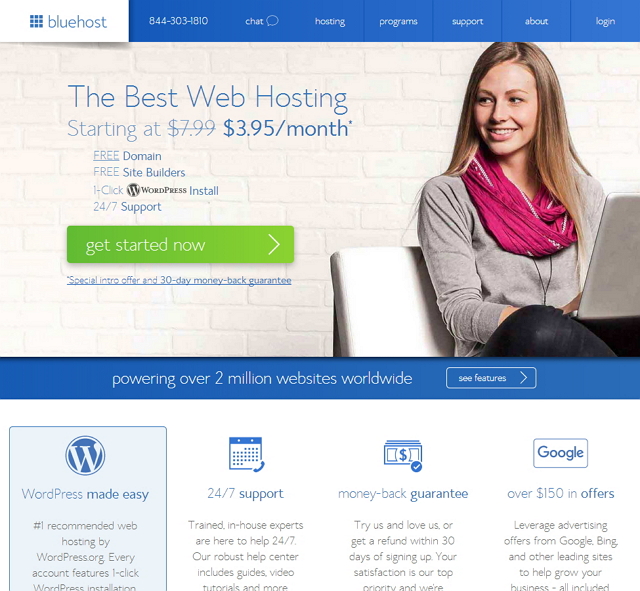 Click here to visit "http://www.bluehost.com"
BlueHost has been in the web hosting industry for what appears to be an eternity. Originally formed in 1996, it is easily one of the most successful firms around. The company's client base is huge and continues to grow at an unbelievable rate, reportedly to the tune of 20,000 new customers per month.
With BlueHost, you can count on a feature rich hosting solution that doesn't force you to break the bank. The service is definitely affordable, but does it really live up to expectations? Find out by reading this BlueHost review.
Price Value
BlueHost specializes in low cost web hosting services. This is one service provider that has always been consistent with its price, which is usually around $6.95 per month. In order to secure this price, you must either purchase the two year or three year plan. Most customers attest that BlueHost equals an exceptional price value no matter how long you choose to sign up for. We think you will agree.
Features
Often, what makes a given web hosting package attractive are the features. And while some companies jumble a bunch of meaningless options together to add weight, so to speak, BlueHost offers a slew of features you can actually put to good use. Included in the package are your choice of webmail programs, an advanced spam filter, and the ability to create unlimited email accounts for your messaging needs. You also receive a new drag and drop site builder, FTP access, and support for unlimited domains, which is ideal if you need to maintain more than one website. When it comes to features, BlueHost delivers all the basics and more.
Free Software
Many web hosting providers couple their packages with free software, and BlueHost is one that follows this trend. Its one-size-fits all package comes loaded with some of the most popular and highly sought after applications available. You have immediate access to social networking platforms, blogging engines, content management systems, shopping carts, and image galleries to  name a few. What is even better is that all the programs include in your package can easily be installed in single click of the mouse, no programming experience.
Control Panel
BlueHost sets you up with cPanel, arguably the best control panel available on the market. cPanel built its reputation on being both powerful and incredibly easy to use. This software gives you the ability to manage every aspect of your website. From a user-friendly interface, you can create your email accounts, login to check your webmail, and set up the autoresponders that let automatically reply to email while you're away from the desk. You can also view your traffic statistics, monitor bandwidth and disk space usage, and access a comprehensive file manager that makes an excellent alternative to FTP clients. The simplicity of cPanel will have you operating like a seasoned webmaster in no time.
Customer Support
One of the reasons BlueHost has been so successful in the hosting business has to do with its commitment to providing high quality support. The experts at BlueHost are available 24/7, ready to service your needs via toll-free phone, email, and live chat. You can also communicate with staff through a support ticket system, and help yourself to tons of online documentation when you prefer to find your own answers. This system is the backbone of BlueHost's award winning customer support.
Technology
Technology is what drives the web hosting business, and BlueHost is driven by some of most dependable technology around. The company's platform is built on Linux, an operating system known for its power and durability. It also runs an optimized version of the Apache web server, in addition to the highly efficient MySQL and Postgre SQL database systems. For server side programming, the platform supports  PHP, Perl, Python, and Ruby on Rails, an increasingly popular option among developers. BlueHost delivers technology that simplifies the hosting experience for the newbie, and offers advanced functionality for the tech savvy user.
Service Reliability
BlueHost consistently receives high marks in the area of reliability. The company's commitment to reliability all starts with only using the best breed of server hardware. Each one of its hundreds of servers is backed up on a regular basis to ensure that your data can be quickly restored if need be. BlueHost's internal disaster recovery plan is designed to ensure the continuity of your online operations.
Other key factors that attribute to BlueHost's reliability are its data center environment and world-class network. Prepared for the absolute worst, the company has UPS systems and diesel-fueled generators in place to provide power in the rare occurrence of an outage. The firm's network is backed by multiple high capacity connections to the internet, connections that play a direct role its ability to maintain a superior level of performance. The servers, data center and network all enable Blue to uphold its 99.9% uptime guarantee.
Extras
BlueHost's service is attractive as is, but comes bundled with a few extra incentives that add to its appeal. Your package includes a free search engine submission to help accelerate your search marketing efforts as well as $50 towards an advertising campaign with Google AdWords. You also receive a free domain name, which you will never have to pay for as long as you are a BlueHost customer. These are nice bonuses that can help you save a little money, and enhance your web presence over the long haul.
Conclusion
If you are someone who needs a website for personal endeavors, or objectives that are small business related, BlueHost's feature rich plan could be the perfect solution for you. The service is affordable, flexible, and more importantly, reliable. While most web hosting providers proclaim to be among the best options, this company actually has the track record to back up its claims. It certainly isn't the only option, but thousands of happy customers will tell you that there is no going wrong with BlueHost.