Disclosure:I receive referral fees from companies mentioned in this site. All opinion and data is based on my experience as a paying customer.
iPage Review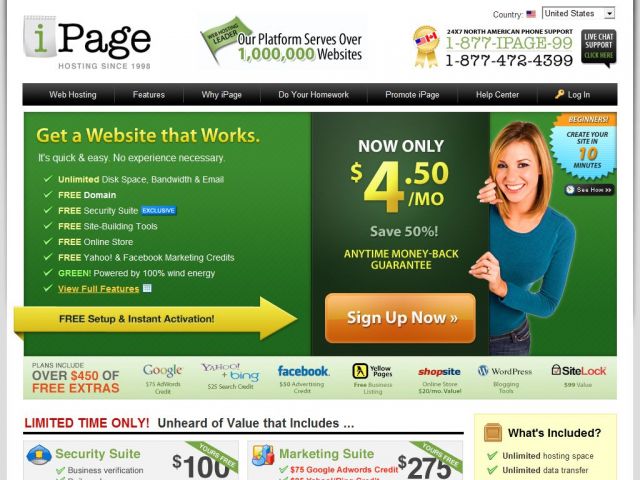 Click here to visit "http://www.ipage.com"

There are literally too many web hosting companies to count these days, and although most claim to be the cream of the crop, not all are successfully living up to those claims. After being in the business for well over a decade, iPage is one company that has proved it is more than cable of backing up its talk. Operated by a dedicated team with tons of experience in the industry, this firm has long developed the skill necessary to provide a high quality service.
iPage is becoming an increasingly popular choice for web hosting. In this review, you will discover why and learn more about what this well respected service provider has to offer.
Price Value
Web hosting plans are generally affordable across the board these days, but the actual value they have to offer is always debatable. After getting settled in, you will likely agree that iPage offers a real bang for your buck. Its main attraction, the Essential package, is currently priced at $4.50 per month. This is exceptional value when considering that it includes a free domain name, and all the bandwidth and disk space needed to grow without having to pay extra. iPage's price value is reflected even more by the wide array of features.
Features
If you want a web hosting plan that is loaded with attractive features you can actually put to use, look no further than iPage. Their Essential plan comes up equipped with your choice of two site builders that allow you to conveniently build your website in simple drag-and-drop fashion, a complete email system for your online messaging needs, and your choice of shopping cart programs for selling products or services online. There are also tools available to analyze your site performance, and find what areas need improvement.
Free Software
Free add-on programs have become a common aspect in the web hosting arena, and iPage has some of the very best options available. Your package comes bundled with WordPress, Joomla, ZenPhoto and a host of other applications that can be used to extend functionality. Worried about installing these feature-rich programs? Don't be as they can all be installed in a simple click of the mouse. Whether you need a blog, content management system or beautiful photo gallery, iPage's system provides an easy to make it happen regardless of your experience.
Control Panel
While most of today' web hosting service providers elect more well known control panels like cPanel and Plesk, iPage has opted for vDeck. Though it may not be as popular, it is just as good when it comes to simplifying the often complex task of administering a website. vDeck provides a simple way to manage all the vital aspects of your account. It is the tool that is utilized to set up email accounts, upload files to the server, create a new database, and even incorporate the free add-on programs that are available to you. This software may not have the fanfare of cPanel, but quite a few believe that it delivers the same perks and then some.
Customer Support
As you can see, iPage's Essential package is rich in features and functionality, but where this veteran web host really shines is in the customer support department. Support is available through a variety of channels, including toll free phone, email and live chat, an increasingly popular trend in the hosting industry. iPage boasts the claim of responsive support, and according to many satisfied customers, it is living up to that promise. The company's staff is available around the clock, there to service your needs on nights, weekends, and holidays.
Technology
The iPage platform is backed by some of the most reliable technology in the web hosting business today. Operating rock-solid Linux servers, iPage has powerful MySQL databases, in addition to full support for Python and its many ready-to-go scripts. The Essential hosting plan is also equipped with server side include for easy dynamic content creation, and efficient backup software that allows you to back up your site at any time. iPage has technology to appease new and savvy users alike.
Service Reliability
One of iPage's greatest assets its reliability. The company has a world-class IT infrastructure, which all starts with its two centers in the metro Boston area. Each facility is fully redundant, combining for more than 2,400 square feet in space and well over 800 high performance servers. iPage utilizes load balancing technology to maintain performance and an efficient clustered server system that ensures availability even if a piece of hardware should happen to fail.
The iPage network is just as impressive, powered by state of the art network technology and top of the line routing equipment from Cisco. Coupled with multiple gigabit and fiber optic internet connections from diverse backbone providers, this network is able to assure lightning fast access that keeps your site performing like a champ.
Extras
Most web hosting companies offer a little extra on the side, but what iPage delivers is the works at no additional costs. Some of the noteworthy extras that come with its Essential plan are $50 in free Google Adwords and Facebook advertising, $25 in Yahoo and Bing search advertising, and instant access to the highly touted Google Webmaster Tools. You also receive valuable online marketing resources, a free listing on YellowPages.com, and a free 60-day membership to the RatePoint reputation management service. These extras are a steal for those who aspire to do some serious promoting for their website.
Conclusion
You could go with many suitors these days, but iPage makes a smart choice for your web hosting needs. This company has an excellent reputation in the business, and though it has been around for a while, it is still enjoying positive growth with a steady flock of new customers. Backed by a reliable platform, solid support, and an affordable price, the value of iPage's feature loaded Essential package is hard to beat in these tough economic times.