Disclosure:I receive referral fees from companies mentioned in this site. All opinion and data is based on my experience as a paying customer.
InMotionHosting Review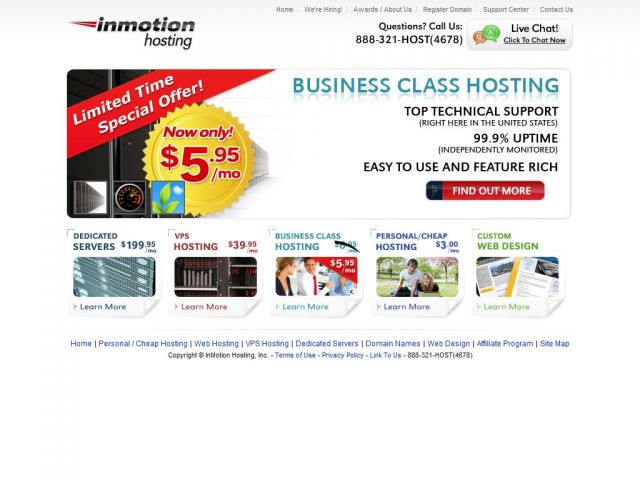 Click here to visit "http://www.inmotionhosting.com"
By now, InMotion Hosting can be considered a veteran in the web hosting game. The company hit the ground in 2001 and has not stopped running ever since. Backed by a team of experts with diverse technical backgrounds, the company claims to be committed to its customer base, and according to its continued growth, it seems to be living up to all the talk.
InMotion Hosting's track record is one that can be verified. Over the years, the firm has taken home a number of prestigious honors, including the "Best Business Host" award for 2010. All that sounds good, but the proof is in the pudding. Here is a review that explains more in detail how InMotion can accommodate your website needs.
Products and Services
InMotion Hosting has a lot to offer in terms of variety. Currently on the menu is personal, business class, VPS (virtual private server), and dedicated server hosting. Each category has multiple levels, which are priced accordingly. For those who just plan on building a simple website for personal needs, hosting starts as low as $3.00 per month. In addition, In Motion Hosting offers custom web design, domain name registration, and other services that could potentially benefit your web presence.
Basic Features
If you are after a plethora of features, InMotion Hosting has them waiting for you. Some of the many items on the list are multiple email accounts, support for multimedia applications, and a complete system for managing your email communications. With the business package, you have a variety of options for building your site. This includes a free premium site builder as well as support for Adobe Dreamweaver and Microsoft FrontPage. Whether you are an advanced user or a newbie, InMotion has a ton of great features you can put to good use.
Business Features
InMotion Hosting is a popular choice among the internet business community, and part of the reason is related to its rich set of e-commerce tools. Their plans give you a nice selection of shopping carts to choose from, in addition to support for the Google Checkout payment service, and a merchant account to sell products or services from your own store. InMotion also gives you an SSL certificate that is shared across the server, PGP encrypted email, password protected directories, and other security features that are highly sought after by small businesses these days.
Control Panel
Like many of today's web hosting providers, InMotion Hosting uses cPanel for its control panel. This is an excellent choice. Presenting a user-friendly interface, cPanel is simple enough for the newcomer, and powerful enough for advanced webmasters. Everything from the file manger that lets you upload to the server to the program that allows to build your actual site, every aspect of your account can be handled from a centralized page in your browser. cPanel makes website administration a breeze regardless of your technical abilities.
Customer Support
According to most of the customer feedback, the one area InMotion Hosting truly excels in is support. The company offers a variety of support options, allowing you to get help by toll free phone, email, and live chat. There is also a library of online documentation that lets you find your way through FAQs, articles and tutorials. The best thing about the InMotion Hosting support system is that it runs 24/7, which means you can get a response at night, on weekends, and during the holidays. InMotion makes sure there is always a staff member around to address your concerns in some capacity,
Technology
The InMotion Hosting platform is driven by some of the most dependable technology in the business. This is one of the main reasons its diverse offering are sought after by so many individuals and businesses. The company utilizes powerful Linux servers equipped with complementing technologies such as the Apache web server, PHP, Perl and Python programming languages, and MySQL databases. Server side includes are available for simplified dynamic content and creation, while PHPMyAdmin can be used for advanced database management. The technology InMotion Hosting offers is a computer geek's dream.
Service Reliability
InMotion has a reputation for being extremely reliable in the web hosting business. The host has an infrastructure and network that enables it to deliver some of the fastest speeds around, ensuring that your website performs exceptional whether it is running in a dedicated, virtual, or shared environment. As far as availability goes, InMotion' servers have been clocked at a solid 99.9% uptime, ensuring that your site is always up and running.
InMotion Hosting prides itself on a state of the art facility equipped with the best breed of Dell PowerEdge and Sun Microsystems server hardware. The network is powered by advanced routing technology and actively monitored to ensure that issues are addressed as soon as they are identified. All these qualities enable InMotion Hosting to stand by their 100% satisfaction guarantee.
Extras
InMotion Hosting also offers some noteworthy extras that enhance the value of its web hosting services. Among them are free domain names with most plans, and support for mobile devices that can be connected to your messaging system. More importantly is InMotion Hosting's
industry-leading 90-day money back guarantee. Although restrictions apply, it is possible to receive a refund if you are not 100% happy with any part of the service, no questions asked. This can be considered a  rarity in the hosting business.
Conclusion
Whether you require a simple personal or business website, a more powerful virtualized environment, or your own dedicated server, InMotion Hosting makes a fine choice for your web hosting needs. The company has been around the block and has both the track record, and loyal customer base to back up it claims. This host is not out to offer the cheapest solutions on the block. However, it does aim to be cost effectiveness and more importantly, deliver real value. These are two things it appears to be doing quite well.