Disclosure:I receive referral fees from companies mentioned in this site. All opinion and data is based on my experience as a paying customer.
Arvixe Review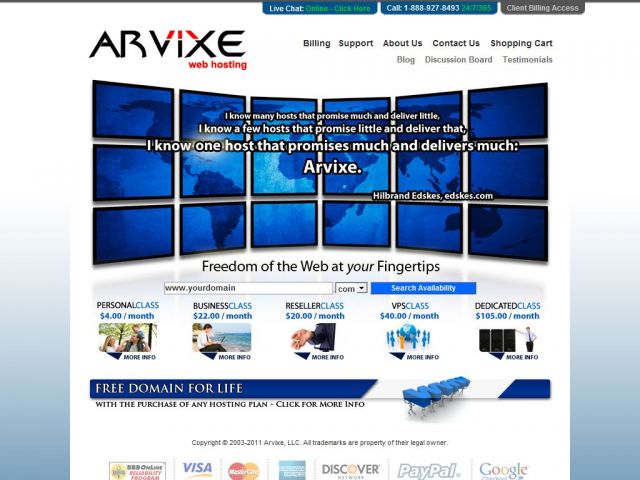 Click here to visit "http://www.arvixe.com"
Based in San Luis Obispo, California, Arvixe is a specialist in the web hosting business. The company got its start in 2003 and hasn't looked back since. A multi award winning service provider, it is currently one of the fastest growing firms in the industry.
If you need a website for personal or business needs, rest assured that Arvixe can deliver the goods. Never heard of this host before? That's okay, because we will let you know all about what they have to offer with our Arvixe hosting review.
Products and Services
The Arvixe portfolio is rich in products and services. Unlike many companies that specialize in one area of web hosting or another, this one gives you a variety of solutions to choose from. Arvixe has entry level package fit for individuals and small businesses as well as virtual private servers and dedicated servers for those with more complex requirements. The host also has reseller accounts that provide you with the opportunity to sell your own service plans and profit from the burgeoning web hosting market. Consider Arvixe.com your one-stop shop for hosting solutions.
Basic Features
Arvixe offers all the features that have become standard in today's marketplace. Some of the features up for grabs include a free one-click site builder, in addition to support for Microsoft FrontPage and Adobe products Dreamweaver and GoLive. You also receive a comprehensive email system complete with the ability to create multiple accounts, three different webmail options, and mailing lists. Furthermore, Arvixe provides unlimited disk space and transfer, which has also become a common offering these days.
Business Features
If you have business aspirations, Arvixe's BusinessClass and BusinessClass Pro have all the features you need to make an impact. These packages come equipped with the ability to set up password protected directories, support for Flash animation, and your choice of shopping cart programs for building your own online storefront. The business class plans also include an SSL certificate, which is shared across the server to secure transactions and allow your customers to shop with peace of mind. With private SSL certificates often being on the pricey side, this is a nice luxury to have.
Control Panel
Arvixes uses cPanel as its control panel. It is currently the number one hosting control panel available so this is definitely a great choice. cPanel makes keeping up with your web hosting account a breeze, giving you the power to handle all the necessary administrative tasks from its user-friendly interface. It makes ordinarily complex processes such as creating email accounts, databases, and sub domains a simple endeavor that can be performed by just about anyone. There are numerous control panels available, and all aim to accomplish the same goals, but very few can match cPanel's ease of use.
Customer Support
For years, Arvixe has been receiving high marks in the area of customer support. There are several ways to get the help you need, including toll free phone, email, and live chat. If your matter is not of urgent importance, you can submit a support ticket. Though this is not the speediest way to resolve your issues, the staff tends to respond to all tickets in a timely manner.
The company also has online documentation in the form of an extensive knowledge base and tutorials that can be used to help you find your way. It all equals up to the 24/7365 support system that has helped Arvixe establish an excellent reputation in the business.
Technology
The Arvixe platform is rich in the technology that makes the web hosting industry go round. Specializing in both Linux and Windows packages, Arvixe delivers powerful technology specific to both operating systems, including MySQL and MS SQL databases as well as PHP, Perl, Python and ASP.NET for dynamic programming. All in all, these technologies make the web hosting experience easier to grasp for inexperienced users, and more fulfilling for those with more technical savvy.
Service Reliability
Arvixe takes web hosting serious and this is reflected in its commitment to providing a reliable service. The firm houses its IT infrastructure in an SAS 70 Type II certified data center, a facility built to withstand the demanding requirements of the hosting business. It also features cooling systems to keep the hardware running efficiently, and a complete backup power system to keep the operation thriving in the event of an outage. Additionally, the company's facility is well connected with a network powered by multiple backbones to ensure the highest level of performance and availability.
Realizing the security is critical to reliability, Arvixe takes various steps to assure that its hosting platform is secure. The company utilizes firewall technology to prevent network intrusion, and advanced software to protect against DDoS attacks. It also has mechanisms in place to ward off brute force attacks, in addition to on site security for the physical protection of the facility. Combined with nightly security updates and around the clock network monitoring, these features make sure your investment is protected.
Extras
Just like most web hosting firms these days, Arvixe offers a few bonuses to entice new clients. Its premiere packages come included with tons of free software, boasting options that range from blog engines and CMS platforms to applications that allow you to create your own forums and social networking sites. Each program can easily be install in a single click with cPanel's Fantastico or Softaculous. You also receive a free domain for as long as you are a customer. These bonuses and more make Arvixe a very attractive option.
Conclusion
The only drawback we see to hosting with Arvixe is the price. Getting a package that offers the best value will cost you twice as much as most other options on the market. However, a good service is far more than a low price, and this well respect company is proof of that. If you have the budget, then Arvixe could be the perfect solution for your web hosting needs.