Disclosure:I receive referral fees from companies mentioned in this site. All opinion and data is based on my experience as a paying customer.
FatCow Review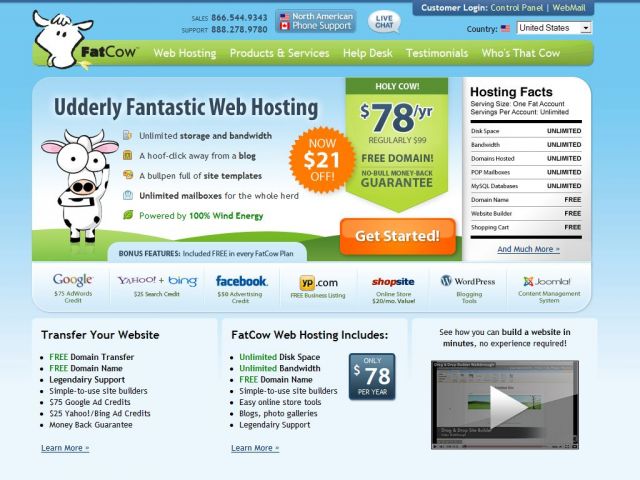 Click here to visit "http://www.fatcow.com"
Originally launched in 1998, FatCow is a veteran company that takes a unique approach to the web hosting game. This host has a lighthearted demeanor, which is reflected in the humorous elements sprinkled throughout its website. When having a look around, you will see that this is a company that likes to have fun.
Despite all the humor, FatCow is quite serious when it comes to the hosting business. Claiming a commitment to the customer, it aims to make its services easy to use, affordable, and rich in value. Does the Albuquerque, New Mexico-based company really live up to all the hype? Find out by reading this FatCow web hosting review?
Price Value
Many customers agree that FatCow offers a great value for your money. One of the first things you will notice about this host is that it charges for service on a per year basis, opposed to per month. This is what most firms do, but very few of them come out and tell you the actual price you need to pay to obtain the package. Just another factor that puts FatCow in its own class. The price is incredibly affordable either way you look at it, and when taking in all the benefits, it adds up to one of the best bargains around.
Features
FatCow only offers a single hosting plan, but that plan is packaged with a variety of useful features. You have two options for building your website as the company supports the Microsoft
FrontPage web design program, and also provides access to a free site builder. The plan also comes with some features you will not find too many other places, most notably a custom Google search box, and the highly sought after Google Webmaster Tools. In addition, FatCow offers more than enough disk space and bandwidth to accommodate your growth.
Free Software
If you are looking for a web hosting package that is loaded with free software options, look no further than FatCow. Known as the "Script Barn," its bundle of free software consists of blogging platforms, image galleries, and content management systems such as Joomla among many others. Worried about how you will get these applications up and running? Don't be. Each program included in your package can easily be installed with the simple click of the mouse. Maximizing the potential of your web hosting solution is that easy.
Control Panel
While most web hosting firms use the industry leading cPanel control panel, FatCow has opted for vDeck. For those who are not familiar with this software, rest assured that it gets the job done. vDeck allows you to control virtually every aspect of your website and hosting account from a centralized interface. From creating email accounts to viewing web statistics, all the management aspects are made simple enough for just about anyone with general computing experience to grasp. vDeck may not have the fanfare of cPanel, but when it comes to simplifying website administration, it matches up quite well.
Customer Support
FatCow has an excellent reputation in the web hosting business. Much of this has to do with its ongoing commitment to deliver great support to the customer. The company has a system in place that allows you to get help in a variety of ways, including toll-free phone, email, and live chat, each channel backed by its "Moo Crew." Don't let the name fool you because the FatCow support staff is knowledge, and fast to respond to concerns. Additionally, the host provides access to an extensive FAQ library, tutorials, and other resources that can be used to help you find your way.
Technology
The FatCow platform is rich in flexible, efficient technology. Specializing in Linux hosting, it utilizes the fast and reliable Apache web server, and the powerful MySQL database system for your data storage needs. The platform is also equipped to support web development in a variety of programming languages, including Python, and the latest version of PHP, the most popular open source scripting language of them all. FatCow's technology makes hosting easier for the newbie, and more advanced for the seasoned webmaster.
Service Reliability
In the web hosting industry, FatCow is known as one of the most reliable service providers around. The company uses load balancing to maintain its collection of top of the line servers and ensure a high level of reliability. What this technology does is optimize the workload of each server, making sure that the load is equally distributed to prevent the hardware from being overworked. It is load balancing that plays a huge role in the exceptional performance FatCow is so well known for.
FatCow got where it is today by settling for nothing but the best. The FatCow infrastructure and network are perfect examples of this. Operating out of a world class data center, its hosting facility is designed to ensure that customers get their money's worth. From regular backups of your website data to a comprehensive backup power system that keeps you online in the untimely event of an outage, this firm's infrastructure was built with reliability in mind. Factor in a robust network, and you have a solution that delivers the performance, and stability you need to thrive in today's web-based environment.
Extras
FatCow offers a slew of bonuses that enhance what is already a very attractive service. These extras include a free business listing on YellowPages.com, a free 60-day trial to the RatePoint customer feedback service, and a free 60-day trial to Constant Contact's award winning email marketing service. You also receive free credits to advertise your site through the Google, Yahoo and Bing search engines. If you plan to do some serious promoting for your website, these bonuses can really come in handy.
Conclusion
Offering a low price and superior service, it is safe to say that FatCow makes a fine choice for web hosting. Its one-size-fits all solution is tailored for individuals and small businesses alike. And while there are many options on today's market, a legion of loyal fans will tell you that there is no going wrong with the "Cow."